Saturday, December 10, 2016
A suspect of Cambodia child abused in Mondulkiri province was arrested on December 07, 2016 in Ho Ching Ming City, Vietnam. (Facebook screenshot/VOA Khmer)
Vietnamese Man Arrested in Ho Chi Minh for Torturing Cambodian Child 
VOA Khmer | 10 December 2016
Under Cambodian law, Nguyen Thanh Dung could be charged with aggravated torture and acts of cruelty, which carries a sentence of 10 to 20 years imprisonment.
A Vietnamese man accused of torturing a toddler in Mondulkiri province was arrested in Ho Chi Minh city late Wednesday after fleeing to his home country, according to police.
The arrest of Nguyen Thanh Dung, 25, came after a graphic video circulated on Facebook allegedly showing him torturing the two-year-old child, sparking outrage across Cambodia.
Sam Rainsy
is Cambodia's rare, honorable, dignified STATESMAN through and through in a swamp of crocodiles and snakes with unbridled ambition and greed!
Sam Rainsy's Unique Role
Unfortunately, in Cambodia at this moment in time, there's no other No. 1 man besides Sam Rainsy. Many, many, many courageous leaders I like and respect, but no other man comes remotely close to replacing Sam Rainsy as the chief of the democracy movement.
Hence, we need him alive; we need him to have the mobility and agility to do the work needed during this challenging time, be it overseas or inside the country. The strong and growing support of the international community, for example, did not come by chance but to a large degree due to his effective lobbying.
Courage is one important characteristic, which Sam Rainsy shares with countless Cambodians.
It would be laughable and easily dismissed as rubbish some of the comments calling him a "coward" if they didn't come from voices I normally thought normal. One only needs to review his political activities in darker periods to know how indeed laughable and rubbish these sentiments are.
Courage, yes! But this is the not the distinguishing trait. What makes Sam Rainsy stand out is his unique, rare combination of top leadership skills and qualifications, recognized not only within the limited Cambodian society but internationally.'
Let's keep perspective amid the seemingly overwhelming challenge before us.
- Theary, Kirirom, 13 Oct. 2016
Seen and heard on Ms. Theary C. Seng's Facebook accounts:
Friday, December 9, 2016
Sam Rainsy, a more dynamic and popular politician than Kem Sokha, faces a two-year prison term along with new charges and was recently barred from re-entering Cambodia. He and Kem Sokha are rivals as well as allies, and Hun Sen has a history of using a carrot-and-stick approach to divide his opponents.
Cambodia's Rescue Party Deputy President Kem Sokha, left, greets the registrars before a meeting at National Assembly in Phnom Penh, Cambodia, Wednesday, Dec. 7, 2016. Cambodia's newly pardoned Kem Sokha has returned to parliament with a claim that he and Prime Minister Hun Sen have agreed to help reconcile their contending parties for the sake of benefiting the country. (AP Photo/Heng Sinith)
"Position is not important. What is important is one's integrity and dignity,"

 he said. 

"I gladly accept everything if I can help rescue our country and make it prosperous."

Recounting his persecution by the government — from his expulsion from parliament to the ban on his return

 — he said, "But I remain true to myself and will remain faithful to my motherland until the end of my life."
Cambodian deputy opposition leader reconciles with premier
Associated Press / Yahoo 
News | 
7 December 2016
PHNOM PENH, Cambodia (AP) —
Cambodia's deputy opposition leader
, recently pardoned from going to jail for ignoring a court summons, returned to parliament Wednesday saying he and Prime Minister Hun Sen have reached a deal to help reconcile their rival parties for the sake of the country.
Last month, Kem Sokha and fellow lawmakers of the Cambodia National Rescue Party ended a six-month boycott of parliament protesting what they said was politically motivated harassment after several were stripped of parliamentary immunity and sued by Hun Sen's government.
Critics accuse Hun Sen of manipulating the courts to weaken the opposition's chances in next year's local polls and the 2018 general election.
Opposition members said they returned to parliament to seek a political truce and scrutinize the national budget.
Kem Sokha, who had taken refuge at party headquarters for months to avoid arrest, was granted a royal pardon last Friday at Hun Sen's request. He had failed to answer a summons in a case involving his alleged mistress that he had described as politically motivated.
He said at Wednesday's National Assembly session that he and Hun Sen agreed to resolve their differences through talk, in what could be taken as a breakthrough in easing tensions. But it also could drive a wedge between opposition leaders.
While Kem Sokha no longer has a jail term hanging over him, Cambodia National Rescue Party leader Sam Rainsy remains in political limbo.
He has been in exile since November last year after an old conviction for defamation was restored and his parliamentary immunity was stripped by the government's legislative majority.
Thursday, December 8, 2016
៧ ធ្នូ ២០១៦ | 7 December 2016
តំណែង មិនសំខាន់ទេ; អ្វី ដែលសំខាន់ គឺ ភាពទៀងត្រង់ និងភាព ថ្លៃថ្នូរ របស់ យើង ម្នាក់ៗ។

ខ្ញុំ សុខចិត្ត ធ្វើ អ្វីៗ ទាំងអស់ ឲ្យតែ ប្រទេស ជាតិយើង បាននៅ គង់វង្ស, ហើយ ឈានទៅរក ភាពរុងរឿង។

គេ បណ្តេញខ្ញុំ ពីរដ្ឋសភា, គេ ដក អភ័យឯកសិទ្ធិ, គេ កាត់ទោស ឲ្យជាប់ ពន្ធនាគារ, គេ ចេញដីកា ចាប់ខ្លួន, គេ ហាមឃាត់ និងរារាំង មិនឲ្យ វិលត្រឡប់ មកប្រទេស កំណើតវិញ, គេ បកស្រាយ រដ្ឋធម្មនុញ្ញ និងបទបញ្ជា ផ្ទៃក្នុង រដ្ឋសភា តាមតែ អំពើចិត្ត របស់គេ។ តែ ខ្ញុំ សម រង្ស៊ី នៅតែ សម រង្ស៊ី ដដែល, ហើយ ភាពស្មោះត្រង់ របស់

ខ្ញុំ ចំពោះ ប្រជារាស្ត្រខ្មែរ នៅតែ ស្មោះត្រង់ ជានិច្ច រហូត ដល់ដង្ហើម ចុងក្រោយ របស់ខ្ញុំ។
Labels and titles are not important. What is important is one's integrity and dignity.

I gladly accept everything if I can help rescue our country and make it prosperous.

They chased me from the National Assembly; they lifted my parliamentary immunity; they sentenced me to prison terms; they issued an arrest warrant against me; they exiled me and blocked all possibilities for me to come back to my native country; they misinterpreted the Constitution and the National Assembly's rules any way they want. But I remain true to myself and will remain faithful to my motherland until the end of my life.
សាលា​ឆាន់​របស់​វត្ត​ពាម​សុវណ្ណ​សាគរ ហៅ​វត្ត​ពាមមន្ទារ ស្ថិត​នៅ​ភូមិ​ពាមមន្ទារ ឃុំ​ពាមមន្ទារ ស្រុក​កំពង់ត្របែក ខេត្ត​ព្រៃវែង ថ្ងៃ​ទី​២៩ ខែ​វិច្ឆិកា ឆ្នាំ​២០១៦។ RFA/Tha Kitya
វត្ត​មួយ ​ក្នុង​ខេត្ត​ ព្រៃវែង​ ជាប់​ព្រំដែន​ វៀតណាម​ ជួប​បញ្ហា​ លំបាក​ច្រើន
វត្ត​មួយ​ នៅ​ជាប់​ ព្រំដែន ​កម្ពុជា-វៀតណាម ឋិត​នៅ​ឃុំ​ ពាមមន្ទារ ស្រុក​ កំពង់ត្របែក ខេត្ត​ ព្រៃវែង កំពុង​ជួប​ការ​លំបាក ​ច្រើន ​ក្នុង​ការ អភិវឌ្ឍ ដោយសារ​ កម្រ​ មាន​ពលរដ្ឋ​ ទៅ​ដល់ ទីនោះ ខណៈ​ពលរដ្ឋ​មូលដ្ឋាន​ភាគច្រើន​មាន​ជីវភាព​ខ្វះខាត។ ព្រះ​ចៅ​អធិការ​វត្ត​ពាម​សុវណ្ណ​សាគរ ហៅ​វត្ត​ពាមមន្ទារ អំពាវនាវ​ឲ្យ​ពុទ្ធបរិស័ទ​ជិត​ឆ្ងាយ​ចូលរួម​ចំណែក​កសាង​វត្ត​ឯកោ​មួយ​នេះ ដើម្បី​ទុក​ជា​ប្រយោជន៍​សម្រាប់​គោរព​បូជា និង​ទុក​ជា​តឹកតាង ​ប្រវត្តិសាស្ត្រ​ ខ្មែរ។
មេឃុំ​គណបក្ស​ប្រឆាំង​លោក ស៊ាង ចែត (រូប​កណ្ដាល​លើក​ដៃ) ពេល​ចេញ​ពី​ពន្ធនាគារ​ព្រៃស នៅ​ថ្ងៃ​ទី​៨ ខែ​ធ្នូ ឆ្នាំ​២០១៦។ RFA/Cheu Sideth
មេឃុំ​ គណបក្ស​ ប្រឆាំង ​លោក ស៊ាង ចែត ត្រូវ​ បាន​ដោះលែង​ ពី​ពន្ធនាគារ
មេឃុំ​គណបក្ស​ប្រឆាំង​លោក ស៊ាង ចែត ដែល​រង​ការ​ផ្ដន្ទាទោស​៥​ឆ្នាំ ករណី​អ្នកនាង ខុម ចាន់តារ៉ាទី ហៅ​ស្រី​មុំ ត្រូវ​បាន​ដោះលែង​ពី​ពន្ធនាគារ​ហើយ​នៅ​ព្រឹក​ថ្ងៃ​ទី​៨ ធ្នូ ក្រោយ​ពី​ព្រះមហាក្សត្រ​ព្រះរាជ​ទាន​លើកលែង​ទោស​កាល​ពី​ថ្ងៃ​ទី​៧ ធ្នូ។
នៅ​ថ្ងៃ​នេះ​ដែរ ប្រធាន​ស្ដីទី​គណបក្ស​សង្គ្រោះជាតិ លោក កឹម សុខា និង​តំណាងរាស្ត្រ​គណបក្ស​ប្រឆាំង រួម​នឹង​សកម្មជន​បក្ស​នេះ​មួយ​ចំនួន ទៅ​​ទទួល​ដំណើរ​លោក ស៊ាង ចែត ក្រោយ​ពី​សួរ​សុខ​ទុក្ខ​មន្ត្រី​បក្ស​នេះ​ដែល​កំពុង​ជាប់​ឃុំ​នៅ​ពន្ធនាគារ​ព្រៃស។
ការ​លើកលែង​ទោស​មេ​ឃុំ​រូប​នេះ ក្រោយ​ពី​លោក កឹម សុខា ជួប​ចរចា​សម្ងាត់​ជាមួយ​មេ​ដឹកនាំ​គណបក្ស​កាន់​អំណាច​នា​រដ្ឋសភា កាល​ពី​ថ្ងៃ​ទី​៧ ខែ​ធ្នូ ហើយ​ធ្វើ​ឡើង​តែ​៣​ថ្ងៃ​ប៉ុណ្ណោះ ក្រោយ​ពី​សាលក្រម​របស់​តុលាការ​ក្រុង​ភ្នំពេញ​បាន​ផ្ដន្ទាទោស​លោក ស៊ាង ចែត ដាក់​ពន្ធនាគារ ៥​ឆ្នាំ​កាល​ថ្ងៃ​ទី​៥ ខែ​ធ្នូ ពី​បទ​សូកប៉ាន់​សាក្សី​ក្នុង​សំណុំ​រឿង​អ្នក​នាង ខុម ចាន់តារាទី ហៅ​ស្រី​មុំ។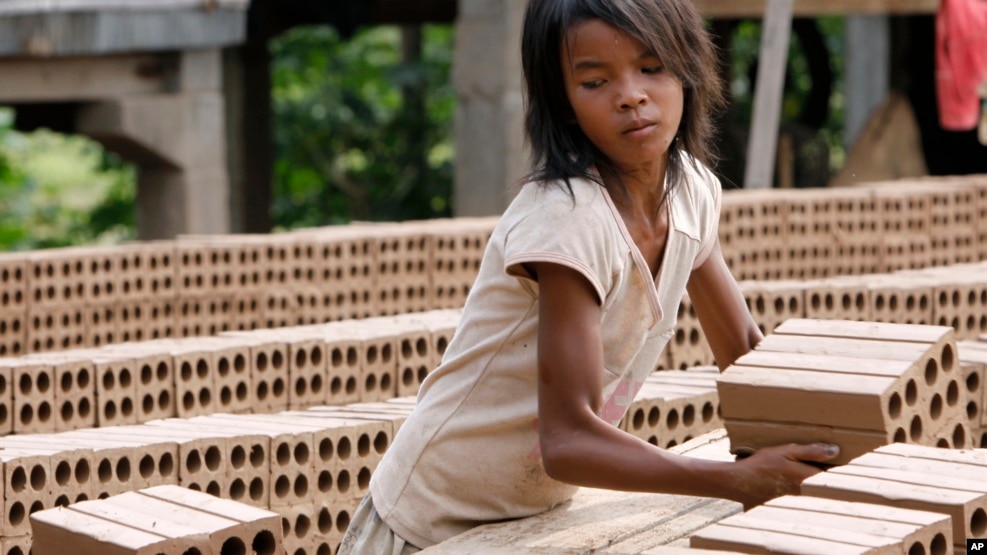 A Cambodian girl prepares bricks to dry under the sun light at a brick factory in Chheuteal village, Kandal province, some 27 kilometers (17 miles) north of Phnom Penh, Cambodia, Monday, May 2, 2011.
Harsh Regime of Child Labor, Debt Bondage Exposed in Cambodian Brick Factories
VOA Khmer | 8 December 2016
PHNOM PENH — 
The use of
debt bondage to retain workers in "contemporary forms of slavery" and child labor is widespread in Cambodia's brick factories and authorities are making no efforts to eradicate the crimes
, according to a new report by rights group Licadho.
On Friday December 2, the International Day for the Abolition of Slavery, Licadho published the report

"Built on Slavery: Debt Bondage and Child Labor in Cambodia's Brick Factories"

.
Vietnamese wanted for alleged Cambodian child rape arrested
| 7 December 2016
The man allegedly used a stun gun on various body parts of a two-year-old Cambodian boy as he screamed in pain.
Police have arrested Nguyen Thanh Dung, a Vietnamese suspect who allegedly took part in the torture and rape of a two-year-old boy in Cambodia, Ho Sy Tien, director of the Criminal Police Department under Vietnam's Ministry of Public Security, said late Wednesday.
Dung was caught in Ho Chi Minh City just a day after police in Cambodia arrested a Dutch man and two Cambodian men who appeared in disturbing child abuse videos posted on Facebook. 
Suspected Child Torturer Captured In Vietnam
Cambodia Daily | 8 Decem
ber 2016
A 25-year-old Vietnamese man was arrested in Ho Chi Minh City on Wednesday evening in relation to graphic videos allegedly showing him repeatedly torturing a young Cambodian boy, according to an investigator involved in the manhunt.
៨ ធ្នូ ២០១៦ / 08 December 2016
បទឧក្រិដ្ឋ ហ្វេសប៊ុក? A Facebook crime?
ថ្ងៃ ៩ ធ្នូ ២០១៦ ស្អែកនេះ សាលាដំបូង រាជធានី ភ្នំពេញ នឹងបើក សវការ ជំនុំជម្រះ ដើម្បី ផ្តន្ទាទោស មកលើ រូបខ្ញុំ (សម រង្ស៊ី) និងយុវជន ២ នាក់ គឺ លោក អ៊ឹង ជុងលាង (អាយុ ២១ ឆ្នាំ) និងលោក សម្បត្តិ សត្យា (អាយុ ២៦ ឆ្នាំ) ជាជំនួយការ ក្នុងក្រុមការងារ ដែលគ្រប់គ្រង ទំព័រ Facebook របស់ខ្ញុំ។ សូម បញ្ជាក់ថា, ខ្ញុំ មានសហការី ជាច្រើន នាក់ទៀត ដែលជួយ រៀបចំ ទំព័រ Facebook របស់ ខ្ញុំនេះ។
បន្ទាប់ ពីតុលាការ អាយ៉ង នៅទីក្រុង ភ្នំពេញ បានកាត់ទោស លោកសមាជិក ព្រឹទ្ធសភា ហុង សុខហួរ កាលពីថ្ងៃ ៧ វិច្ឆិកា ២០១៦ ឲ្យជាប់ ពន្ធនាគារ ៧ ឆ្នាំ ពីបទក្លែងបន្លំ ឯកសារ សាធារណៈ បទប្រើប្រាស់ ឯកសារ សាធារណៈ ក្លែង និង បទញុះញង់ បង្ក ឲ្យមាន ភាពវឹកវរ ធ្ងន់ធ្ងរ ដល់សន្តិសុខ សង្គម (គួរ ឲ្យអស់ សំណើច!) តុលាការ ដដែលនេះ ក៏បាន ធ្វើការ ចោទប្រកាន់ មកលើ ពួកយើង ទាំង ៣ នាក់ (សម រង្ស៊ី, អ៊ឹង ជុងលាង, និង សម្បត្តិ សត្យា) ពីបទសមគំនិត ក្នុងអ្វី ដែលគេ ចាត់ទុក ថា ជាបទល្មើស ទាំង ៣ មុខ ខាងលើនេះ។
តុលាការ អាយ៉ងនេះ ចាំតែ ធ្វើការ ចោទប្រកាន់ តាមបញ្ជា អ្នកដឹកនាំ នយោបាយ ដែលចង់ កម្ចាត់ គូប្រកួត របស់ខ្លួន។ រឿងនេះ ជារឿង នយោបាយ សុទ្ធសាធ, ហើយ អ្នក ដែលធ្វើការ ចោទប្រកាន់នោះ មិនសំអាង លើការ ពិតមួយ ដ៏សំខាន់ ដែលគេ ធ្វើមិនដឹង មិនលឺ។ ការពិតនោះ គឺ អ្វី ដែលលោក ហុង សុខហួរ បានយកមក បង្ហាញ តាមទំព័រ Facebook របស់ខ្ញុំ កាលពីថ្ងៃ ១១ សីហា ២០១៥ នោះ គឺជាឯកសារ ដែលមាន ការបកប្រែខុស មួយពាក្យ ពីភាសាខ្មែរ ទៅភាសា អង់គ្លេស, ហើយ ពីភាសា អង់គ្លេស ត្រឡប់មក ភាសាខ្មែរ វិញ។ ពាក្យនោះ គឺ ពាក្យ
«កំណត់ ឡើងវិញ
»

ឬ "Redefine" ដែលគេ បានបកប្រែ ត្រឡប់ត្រឡិន ទៅជាពាក្យ
«រំលាយ
»

ឬ "Dissolve"។ ឯកសារ ដែលមាន ការបកប្រែ ខុសមួយ ពាក្យនេះ មិនមែន លោក ហុង សុខហួរ បានប្រឌិត ឬកែ ច្នៃខ្លួនគាត់ទេ, តែ ឯកសារនេះ ត្រូវ បានគេ ផ្សព្វផ្សាយ ទាំងស្រុង តាមប្រព័ន្ធ អុីនធើណេត (Internet) តាំងពីយូរឆ្នាំ មុនលោក ហុង សុខហួរ ទៅទៀត

www.worldkhmerradioonline.com,

http://www.worldkhmerradioonline./…/03/traity-197918feb.…

។ តើ ហេតុអ្វី បានជាតុលាការ អាយ៉ង និងអ្នកដឹកនាំ នយោបាយ នៅប្រទេស កម្ពុជា សព្វថ្ងៃ មិនទៅរករឿង អង្គការ និងក្រុម ផ្សេងៗ នៅក្រៅប្រទេស ដែលគេ បានបង្ហោះ ទូទាំង ពិភពលោក តាំង ពីយូរយារ ណាស់ មកហើយ នូវឯកសារ ដែលលោក ហុង សុខហួរ ទើបតែ បានយកមក បង្ហោះ តាមក្រោយគេនេះ? តុលាការ អាយ៉ង គួរដឹង ថា, ទំព័រ Facebook នីមួយៗ ដូចជាទំព័រ Facebook របស់ខ្ញុំ មានអ្នក គ្រប់គ្រង និងអ្នក ចាត់ចែង ជាច្រើនរូប ដែលមាន សិទ្ធិបង្ហោះ ព័ត៌មាន និងយោបល់ ផ្សេងៗ។ នៅថ្ងៃ ១១ សីហា ២០១៥ នៅពេល ដែលលោក ហុង សុខហួរ បង្ហោះ ឯកសារ ដូចបានបញ្ជាក់ ពីខាងលើ, ខ្ញុំ កំពុង តែ ធ្វើទស្សនកិច្ច នៅសហរដ្ឋ អាមេរិក ឯណោះ, ហើយ ទាល់តែ ថ្ងៃ ១៦ សីហា ២០១៥ ទើប ខ្ញុំ បានវិល ត្រឡប់ មកប្រទេស កម្ពុជាវិញ ដោយមិនបាន ពាក់ព័ន្ធ អ្វី ក្នុងការបង្ហោះ ឯកសារនេះ៕
On 8 December 2016 the Kangaroo Court in Phnom Penh will prosecute two young colleagues of mine: Ueng Chong Leang, 21, and Sombath Satya, 25, and myself for an alleged Facebook crime. On 7 November 2016, opposition Senator Hong Sok Hour was sentenced to seven years in prison by the same Court for posting on my Facebook page on 11 August 2015 a border-related document that had one word mistranslated from Khmer to English and from English back to Khmer, with the verb "redefine" becoming "dissolve". Only because of this mistranslated word, Hong Sok Hour was accused of "forging a public document," "making use of a forged public document" and "inciting the public so as to create troubles and threaten public order." Now, my two young colleagues -- who are members of my Facebook team -- and myself are accused of being "accomplices" of Senator Hong Sok Hour.
The Phnom Penh Kangaroo Court doesn't want to know and to take into account the fact that the very document posted by Hong Sok Hour on 11 August 2015 with its mistranslated word had circulated on the Internet since March 2013 and the Cambodian authorities had not said anything about it and the US-based website that had posted it first.
The Kangaroo Court should also know that any Facebook pages targeting a vast audience generally have many administrators and editors who have the right to post news and views like what Hong Sok Hour did on my page. When Hong Sok Hour's incriminated document was posted -- and deleted a few hours later -- on 11 August 2015, I was traveling in the USA and came back to Cambodia only five days later without having been involved in the incident.