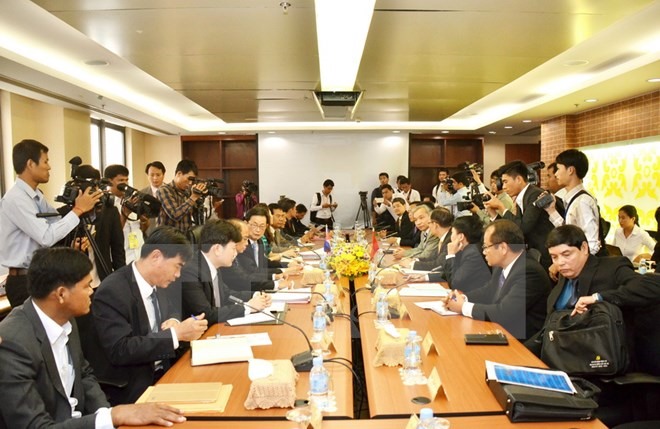 The Special Việt Nam-Cambodia Working Group will meet in early November to exactly locate four border markers in the field in Đắk Lắk-Mondulkiri and Tây Ninh-Svay Rieng pair provinces. — VNA/VNS Photo
VN, Cambodia hasten land border demarcation
| 21 October 2016
HCM CITY – The
Special Vi
ệ
t Nam-Cambodia Working Group
will meet in early November to exactly locate four border markers in the field in Đ
ắ
k L
ắ
k-Mondulkiri and Tây Ninh-Svay Rieng pair provinces.
This was consented during a three-day meeting of the Presidents of the Vi
ệ
t Nam – Cambodia Joint Committee on Land Border Demarcation and Marker Planting in HCM City
that
ended yesterday
.
[NOTHING in the Cambodian press, English or Khmer!]
The Vietnamese delegation to the event was led by Deputy Foreign Minister Lê Hoài Trung, who is also Chairman of the National Boundary Commission, while the Cambodian delegation has headed by Var Kim Hong, Cambodian Senior Minister in charge of border issues.
At the meeting, the two sides displayed their resolve to
quickly complete the border demarcation and marker planting
as 83 per cent of the work has been done in accordance with the
Border Demarcation Treaty signed in 1985 and the Supplementary Treaty to the 1985 Treaty inked in 2005
[ILLEGAL per the 2.4 BILLION Paris Peace Agreements signed by ASEAN members, all 5 members of the Security Council, Japan, Australia AND VIETNAM!]
.
They informed each other about their plans on planting auxiliary border markers and stakes, and pledged to join hands for the best results.
The two sides discussed measures to speed up the delineation of the remaining border sections in line with international law and reality, agreeing to invite international consultants to help with the work.
They also touched upon land exchanges under the models applied by the several relevant provinces of the two countries.
At the same time, the two countries will work to
hasten the construction of a new bridge to replace the Đ
ắ
k Dang Bridge along their common border in an effort to step up exchanges and economic links between their localities
. – VNS