Background / related:
Vietnam, Cambodia "defence cooperation in order to...foil plots to weaken their relations"
...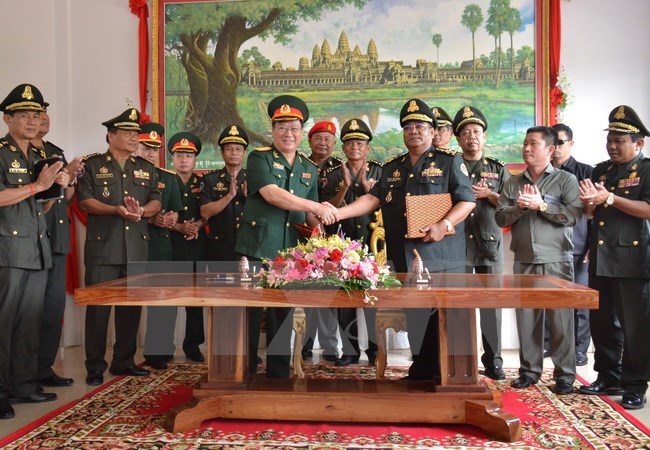 General Hing Bunheang and Colonel Nguyen Anh Dung sign the agreement transferring the headquarters building of the Royal Cambodian Army's Armour-Tank Command
Defence Ministry builds new office building for Cambodian army
The Royal Cambodian Army (RCA) on March 29 held a ceremony marking the opening of the headquarters of the RCA's Armour-Tank Command, which was built with funding by Vietnam's Ministry of Defence.
Vietnam Net Bridge | 30 March 2017
The two-storey building is one of many facilities built in 2016 under the cooperation agreement between the two defence ministries, and part of various activities to mark the 50th anniversary of Vietnam-Cambodia diplomatic relationship in 2017.
He affirmed the Royal Cambodian Army consistently supports and promotes the friendship and comprehensive cooperation between Cambodia and Vietnam.
Agreeing with Hing Bunheang, Commander of the Armour-Tank Command General Lanh Keo expressed his belief that the friendship and solidarity between Vietnam and Cambodia will grow ever strong.
He stressed that the great merit of Vietnamese voluntary soldiers in helping Cambodian people escape the genocidal Pol Pot regime is a historic truth that no one can deny.
Vietnam's Military Attaché in Cambodia Colonel Nguyen Anh Dung said Vietnam will continue helping the RCA to build and upgrade infrastructure and train human resources.
The two countries' armies will also strengthen affiliation in other fields such as search and rescue, information exchange and the search for and repatriation of remains of Vietnamese soldiers

[a cover to roam all over Cambodia]

killed during the wartime in Cambodia.
VNA