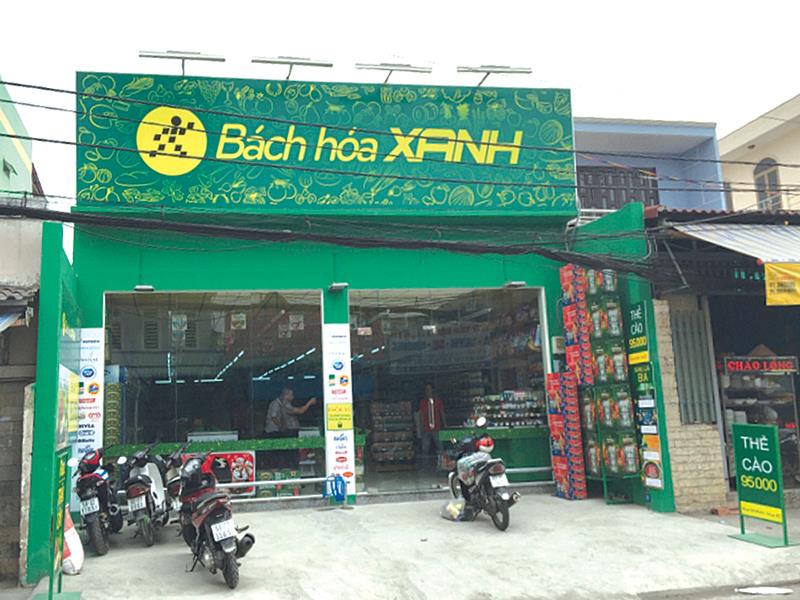 Mobile World Investment Corporation (MWG) expected that by 2019, the Bach hoa XANH chain will become its main source of revenue. However, the grocery store chain, along with BigPhone in Cambodia, is dealing with several obstacles
VietNamNet Bridge | 28 April 2017
BigPhone's difficulties
At the beginning of March 2017, MWG released information about its newest retail chain for mobile phones and digital devices, called BigPhone, in Phnom Penh (Cambodia). The BigPhone chain is considered MWG's pilot study to learn about doing business abroad.
Tran Kinh Doanh, general director of MWG, told VIR that each BigPhone store will have an area of about 150-200 square metres and its signboard will be painted with the black and yellow colours of the Thegioididong chain.
Nevertheless, the store has not been launched due to obstacles in administrative procedures, tax, and invoices. In addition, "the Cambodian market also fails to meet the company's expectations," Doanh said.
Previously, in September 2016, MWG had successfully registered with the Cambodian Ministry of Commerce, and half a year later, in March 2017, publicised the first images of BigPhone.com.
BigPhone's goods will be sourced from an MWG subsidiary in Cambodia, not imported from Vietnam.
It is expected that in 2017 MWG will open ten BigPhone stores in Phnom Penh and by the end of the year, it will have the final answer whether it should expand the chain or leave the Cambodian market.
While admitting to difficulties in Cambodia, Doanh insisted, "Compared to other mobile phone retailers, I am confident that BigPhone can score a ten out of ten, while the others may get a maximum of five."
Is Bach hoa XANH really "fast and cheap"?
"Fast and cheap" is the slogan of Bach hoa XANH, the chain of mini grocery stores selling fresh food and necessities.
However, according to some of MWG's customers and shareholders, except for fresh vegetables sold at an attractive price, Bach hoa XANH sells dried food at a much higher price than traditional markets or supermarkets.
For instance, powdered milk product GrowPlus+ 110ml are sold for VND9,000 ($0.4) at Bach hoa XANH, while at traditional markets or supermarkets it only costs VND7,000 ($0.3).
Similarly, cooking oil products, fish sauce, cosmetics, and so on, have a higher price compared to other supermarkets. Besides, Bach hoa Xanh has no promotion or discount programmes for frequent customers.
A representative of MWG said that the revenue form the chain of 48 Bach hoa XANH grocery stores was VND45 billion ($1.98 million) in January 2017, and dry food generated only three to five per cent of this revenue.
While there are no figures as to the revenue generated by each product line, it looks like fresh vegetables are the main products bringing the lion's share of the revenue.
"Bach hoa XANH's gross profit is low, about 12 per cent, but at the end of 2017, this can rise to 18 per cent. Regarding dry food, we have not found a source to buy at the lowest price, but we will return to this question next year," Doanh said.
According to plans, MWG will figure out the key to success for Bach hoa XANH, with the aim of opening 300 new stores in Tan Phu and Binh Tan Districts, HCM City.
Meanwhile, by 2019, this chain will become the company's main driver of growth, while at present, its revenue is largely negligible for MWG.
Besides, to minimize transportation and selling expenses, the company will construct a VND6-billion ($263,000), 7,000-square metre distribution centre.
Moreover, MWG will decrease the number of employees in each store, and provide an additional VND500 billion ($21.9 million) investment for the grocery store chain.
"In April 2017, we will apply some tools to compare the prices in Bach hoa XANH to other traditional markets or supermarket to be able to offer more reasonable prices for each product," Doanh said.
VIR