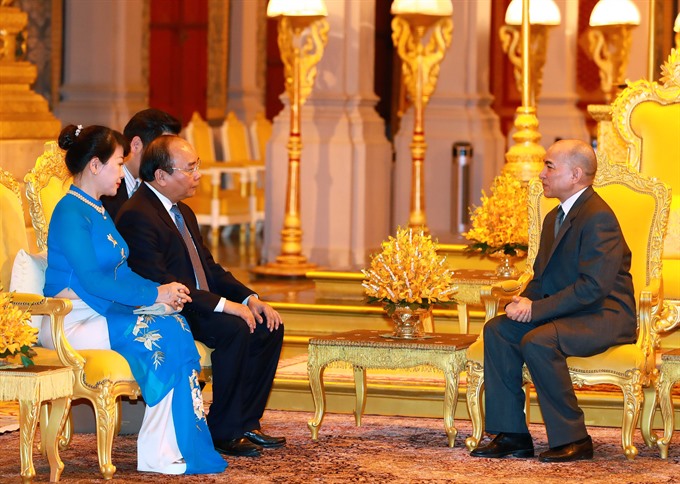 Prime Minister Nguyễn Xuân Phúc and his spouse (left) visited Cambodian King Norodom Sihamoni right after his arrival in the country yesterday. — VNA/VNS Photo

Prime Minister tightens amity with Cambodian royal family
Viet Nam News | 25 April 2017
PHNOM PENH – Prime Minister Nguyễn Xuân Phúc visited Cambodian King Norodom Sihamoni upon his arrival in the country yesterday.
At the meeting, PM Phúc expressed his pleasure to visit Cambodia when the two countries are celebrating the 50th anniversary of diplomatic relations.
He lauded socio-economic achievements Cambodia has made under the reign of King Norodom Sihamoni, particularly elevating its position in the region and the world.
Highlighting the King's contributions to consolidating the partnership between Việt Nam and Cambodia, PM Phúc said he hopes the King's will continue enhancing the ties.
Việt Nam attaches importance to friendship with Cambodia, he said, adding that Việt Nam continuously remembers the King's assistance to Việt Nam during its national construction and defence.
King Norodom Sihamoni said he admires achievements Việt Nam has obtained during its national development and recalled the late King Norodom Sihanouk's recommendations to cement relations with Việt Nam.
He spoke highly of his guest's visit, saying he believes that it will enhance bilateral co-operation.
PM Phúc took the occasion to deliver an invitation to visit Việt Nam to his host and Queen Mother of Cambodia Norodom Monineath Sihanouk, which was accepted.
The same day, the PM visited the Vietnamese Embassy staff and representatives of Vietnamese expatriates living and studying in Cambodia.
Acknowledging their contributions to Viet Nam-Cambodia relations, Phúc affirmed the commitment of the Vietnamese Party and Government to assisting overseas Vietnamese in Cambodia, especially in terms of their legal status, accommodations and living standards.
He urged them to boost the two countries' relationship and expand the teaching of the Vietnamese language within their community. – VNS