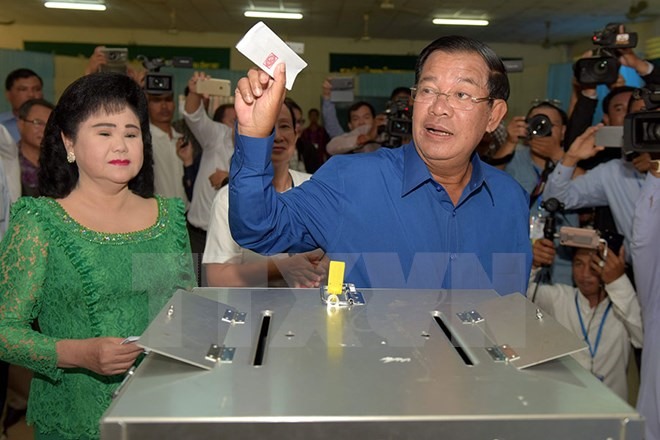 Cambodia's Prime Minister and president of Cambodian People's Party (CPP) Samdech Hun Sen casts his vote during local elections in Kandal Province, Cambodia on June 4, 2017. — AFP/VNA Photo

Cambodia: Major parties acknowledge results of communal elections

| 26 June 2017
Viet Nam News
PHNOM PENH – Cambodia's major political parties, including the ruling Cambodian People's Party (CPP) and the opposition Cambodia National Rescue Party (CNRP) have acknowledged the results of recent communal elections.
Results were revealed by Cambodia's National Election Committee (NEC) on Sunday. The CPP earned victory by winning in 1,156 and the CNRP came second with 489 out of the total 1,646 communes and wards.
In a statement, the ruling CPP predicted it will also win the general election scheduled for July 2018.
The CPP received 3,540,056 votes, or 50.76 per cent of total votes cast, with the CNRP receiving 3,056,824, equal to 43.83 per cent. The CPP secured 6,503 council seats while the CNRP gained 5,007 seats.
According to the NEC, 90.37 per cent of the total 7.8 million eligible voters in Cambodia cast their ballots.
Despite its success, the CPP lost control of more than 430 localities compared to the previous election in 2012.

—

VNS