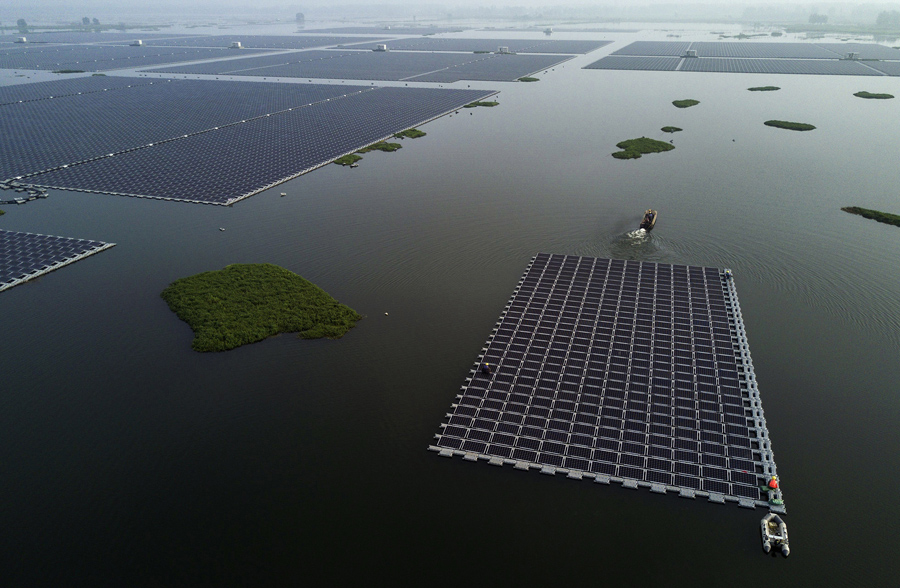 A boat pulls a group of solar panels to be connected to a large floating solar farm project under construction by the
Sungrow Power Supply Company
on a lake created by a collapsed and flooded coal mine on June 14, 2017 in
Huainan, Anhui province, China
. The floating solar field, billed as the largest in the world, is built on a part of the collapsed Panji No.1 coal mine that flooded over a decade ago due to over-mining, a common occurence in deep-well mining in China's coal heartland.
When finished, the solar farm will be made up of more than 166,000 solar panels that could potentially produce enough energy to power a city in Anhui province, regarded as one of the country's coal centers.
Local officials say they are planning more projects like it, marking a significant shift in an area where long-term intensive coal mining has led to large areas of subsidence and environmental degradation. However, the energy transition has its challenges, primarily competitive pressure from the deeply-established coal industry that has at times led to delays in connecting solar projects to the state grid.