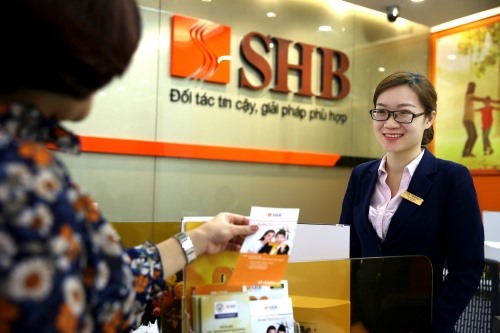 A customer learns SHB services. - Photo thoibaonganhang
SHB Cambodia permittedto increase chartered capital
| 8 June 2017
HÀ N
Ộ
I — SHB Cambodia Bank, the Sài Gòn–Hà N
ộ
i Bank (SHB)'s wholly-owned subsidiary, was given approval to increase its chartered capital from the current US$50 million to $75 million.
The Governor of the State Bank of Vi
ệ
t Nam (SBV), Lê Minh H
ư
ng, on Tuesday promulgated a document to approve SHB
'
s proposal to increasei ts chartered capital at the subsidiary after five years of operation in Cambodia.
Earlier, SHB submitted a document No 253/HĐQT on October 19, 2016, on the capital increase.
SHB opened its branches in Laos and Cambodia in 2011. However, SHB officially opened its subsidiary in Laos on January 15, 2016, and in Cambodia on September 9, 2016. It opened four branches in Cambodia.
The central bank also asked SHB to take responsibilities for implementingthe adjustment of the investment licence to foreign countries for SHB Cambodia Bank, in accordance with the current laws and regulations.
SHB was required to follow regulations on foreign currency management, investment and ensure safety in banking operation, including capital contribution and buying of shares. All the works must be reported to the SBV for supervision.
The Governor asked the Department of Bank Inspection and Supervision to supervise the SHB's implementation of increasing its chartered capital. — VNS