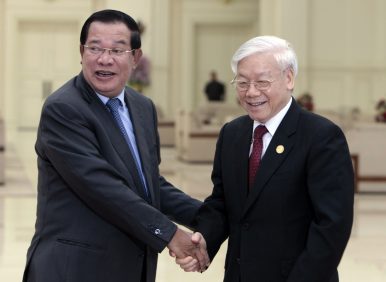 Vietnamese Communist Party General Secretary Nguyen Phu Trong, right, poses with Cambodian Prime Minister Hun Sen for a photo prior to a meeting at Peace Palace in Phnom Penh, Cambodia, Thursday, July 20, 2017.
China in Vogue, But Vietnam Still Hun Sen's Lifeline
The Diplomat | 26 June 2018
With every terrestrial station owned either by top officials from the ruling Cambodian People's Party (CPP) or their allies, it's a norm that those looking to stay in the good graces of leaders installed by Hanoi in January 1979 have done their best to heed.
"When Vietnam opposes China, they are brave enough to speak out about it, but we are never brave enough to speak out as we're forever scared of Vietnam," Sopheap said. "Now I am going to speak out, I am going to criticize, and I am going to protest."
"This is the very same issue we saw explode into protests in Vietnam — and Cambodians need to reflect on that," he said. "Cambodians have the right to protest too."
"Hun Sen was told by the Vietnamese very bluntly that he'd been in power too long and it was time to go," Parkhouse quoted an anonymous senior Cambodian government official as saying. "The two issues that annoyed the Vietnamese the most were his close ties to China and the deportation of Vietnamese citizens from Cambodia."
Yet if Hun Sen's 40-year friendship with Vietnam has been souring due to the prime minister's recent turn to Beijing, and Phnom Penh's work on behalf of China to undermine ASEAN's solidarity on the South China Sea, it's been kept mostly under wraps.
From the regular cheery state visits in both directions to the opening of high-quality Vietnamese hospitals and schools in Phnom Penh, Cambodian and Vietnamese relations have seemed to weather events that typically cause strains on diplomatic relations.
"Vietnamese leaders and officials are pragmatic," explained Carl Thayer, an emeritus professor at the Australian Defense Force Academy (ADFA) and a specialist in Sino-Vietnamese relations. "They do not oppose close relations between Cambodia and China, because Vietnam also seeks close and cooperative relations with Beijing."
Hanoi was "in it for the long haul," he said, and prioritized "domestic stability in Cambodia," believing it had to coexist with — rather that combat — Beijing's rising influence. "In other words," he said, "however concerned Vietnam may be about China's growing influence in Cambodia, Vietnam has not adopted a punitive stance towards Phnom Penh."
Hun Sen himself has also shown few signs of breaking with Hanoi — even if media sycophants like Soy Sopheap have recently found new liberties in criticizing Hanoi.
For any budding strains, it was hardly the makings of a developing break-up.
The ties are therefore best understood, Heder says, not through the lens of regular nation-to-nation affairs but instead through the party-to-party links of Hun Sen's CPP and its historical "big brother" in the CPV — or through the links between the Royal Cambodian Armed Forces (RCAF) and the Vietnamese People's Army (VPA).
"Two overarching themes of VPA-RCAF cooperation are that, historically, 'always at the most difficult times, there has been only Vietnam helping Cambodia,' and that, currently, the VPA is ready to assist the RCAF 'in all circumstances,' including at any time 'when the CPP is encountering difficulties,'" Heder writes.
"Hun Sen has described bilateral relations like one of 'lips and teeth,, with a basis in a 'political relationship' between the countries armed forces. In historical Asian Communist parlance, the notion of a lips and teeth relationship has referred to one of militant solidarity in wartime against a common enemy," he says.
To crystallize Vietnam's perspective on Phnom Penh, Heder pits the CPP, which regularly stresses its gratitude for Hanoi's 1979 overthrow of Pol Pot, against Hun Sen's nemesis in the opposition Cambodia National Rescue Party (CNRP), whose leaders still hold Vietnam responsible for the rise of the Khmer Rouge in the first place.
Quang "counselled [Hun Sen] to carry out 'preventative work, not allowing extremist forces to provoke national animosity or to break up or sabotage the relations of cooperation and friendship' between the two countries" — a clear allusion to the growing popularity of the CNRP in the wake of Cambodia's disputed 2013 national election.
From this context, Vietnam's longstanding reliance on the CPP for stability inside Cambodia had in many ways become institutionalized. It had taken on a "psychological and potentially operational significance as an armed alliance against political change that would bring hostile forces of unfriendly elements to power in Cambodia," Heder says.
The value this brings to Hun Sen — not least in terms of elite military training and health care for his own followers, not to mention the domestic power-projection value of having a large and sympathetic standing army next door — is itself nothing to sneeze at.
Ultimately, Thayer said, Vietnam's leadership too has its own pro-China and anti-China voices, and those leaders understand the situation faced by Hun Sen in balancing his historical (if unpopular) ties to Hanoi with the lucrative benefits of turning to Beijing.
"Except for Cambodia's verbal stance on the South China Sea dispute in support of China, thus undermining ASEAN consensus, Cambodia represents no existential threat to Vietnam," he said. "It is difficult to see how closer relations between China and Cambodia would result in an increase in hostility between Vietnam and Cambodia."
It is still not impossible to imagine how Hun Sen's growing reliance on China may one day strain relations with Hanoi, and allow appeals such as Soy Sopheap's to ring louder.
Yet so long as the CPP remains in power, the two will be hard to winch apart.