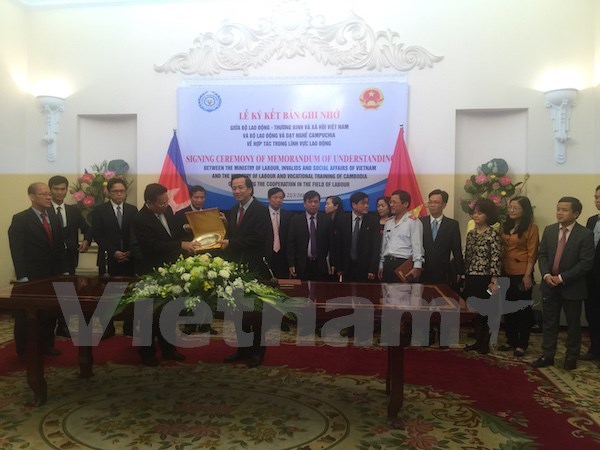 At the signing ceremony
Vietnam, Cambodia sign MoU on labour cooperation
Vietnam's Ministry of Labour, Invalids and Social Affairs (MoLISA) and the Ministry of Labour and Vocational Training of Cambodia signed a memorandum of understanding (MoU) on labour cooperation in Hanoi on March 22.
Vietnam Net Bridge | 23 March 2017
Under the MoU, the two sides will strengthen cooperation, experience sharing and joint studies in occupation and vocational training; labour law observance; labour dispute settlement, among others.
The two sides will cooperate in managing migrant workers and facilitating the handling of
legal procedures for labourers in border areas and helping them work and live legally
.
Addressing the signing ceremony, MoLISA Minister Dao Ngoc Dung said the Government of Vietnam and the Ministry have continuously encouraged the localities bordering Cambodia to promote cooperation in migrant labourers management, poverty reduction, vocational training, and health check-ups for the poor.
He also expressed his hope that the visit of the Cambodian Minister will contribute to promoting joint studies to address differences in policies on foreign labourers of the two nations.
For his part, Cambodian Minister
Ith Samheng
noted Dung's requests relating to further facilitating
Vietnamese labourers working in Cambodia, particularly in the border areas
.
The Cambodian Minister's visit and the MoU are expected to mark a new step in the relations between the two ministries in particular, and contribute to the two nations' cooperation.