Related: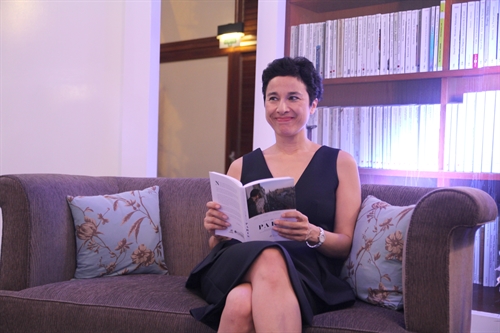 | 3 July 2016
Since arriving in Việt Nam in 2013 to head the Technical and Culture Co-operation Department at the French Embassy in Hà Nội, Eva Nguyễn Bình has dedicated her efforts to boosting the cultural exchange between the two countries. Her efforts paid off and she was assigned to be Director of the French Institute in Việt Nam. The energetic French woman talks with Thúy Hằng about her passion for work, as well as her struggle to maintain a balance between work, family life and her duties as the wife of the French ambassador, Jean-Noël Poirier.
Inner Sanctum: As your father is Vietnamese, were you brought up on stories about Việt Nam?
Since I was a little girl, I was eager to learn everything about Việt Nam but because my father is a person of very few words, I couldn't get much from him. I felt a part of me was missing so when I was 12, I started to write to my grandmother, who then lived in Sài Gòn [former name of HCM City], seeking to know more about Việt Nam and my family. We kept writing to each other until 1999, when I first travelled to Việt Nam. I wanted to visit my grandmother to ask her to tell me stories about the family. I also wanted to spend time with her before it was too late because she was then quite old and not in good health.
My grandmother could spent the whole day sitting in her armchair between the kitchen and dining room, where she could keep an eye on all the comings and goings. Whenever she was in her chair, I sat by, talking to her and asking a lot of questions. We also gossiped and talked about such things as street food and áo dài (the Vietnamese national dress).
Inner Sanctum: Are you close to your father?
Among the three of us - my brother and sister - I am the one most connected to Việt Nam and I think that made me closer to my father.
Like most Vietnamese men of his generation, my father didn't spend much time with his three children although I know he loved us very much. It was a kind of unspoken love.
Although my father studied in France and married a French woman, he remains a very typical Vietnamese man. We used to eat rice at every meal and everyday and when I saw French fries at a lunch at my friend's house, I was so surprised and I asked, "What? You don't eat rice?"
He also explained to us about Confucianism, the history of Việt Nam, the wars with invaders from the North, and the importance of maintaining one's honour and dignity.
He also gave us Vietnamese names. My real name is Nguyễn Bình Thanh Hương. My sister is Thanh Nga. But it is hard to pronounce so my mother gave us French names that stay with us.
Inner Sanctum: Can you speak Vietnamese?
I took a Vietnamese class 10 years ago in Paris but I didn't practise regularly. At present, I'm trying to learn the language again. I can speak a little bit but it's a big challenge for me to understand Vietnamese.
Inner Sanctum: Can you name some major projects you undertook here?
One project of which I am very proud is the renovation of L'Espace [French cultural centre]. I spent the whole of last summer in Hà Nội to be able to keep an eye on the project to turn L'Espace into a more attractive, modern, lively, welcoming venue. Along with finding the financial resources for the project, we also had to convince some people that we could handle the project.
At the re-opening ceremony, I was very happy to see more than 400 people, including many artists such as Tùng Dương, Lê Cát Trọng Lý, Giang Trang and Nguyễn Thế Sơn, who are also my friends. They came to witness the results of our labour and to share with us the joy of doing something to contribute to L'Espace.
Another project that I was very happy with is the Bienvenue en France, or Welcome to France – a new concept of an original education fair held annually in Việt Nam. Since it was launched in 2014, the fair is no longer simply about French education, it is also a big event of French gastronomy, fashion, tourism, and innovation.
We have witnessed growing attendance year after year. Last year, more than 2,400 people attended the one-day event in Hà Nội and HCM City, including 27 schools and universities. This year, so far, more than 30 universities have registered for the event in HCM City on October 8 and in Hà Nội on October 9.
Inner Sanctum: What is your most memorable experience of Việt Nam?
It is the current Paris Ballet. To be able to bring the show to audiences in Hà Nội, I had to work for one year to overcome uncountable difficulties. However, through those difficulties, I learned a lot. For me it was one of the most memorable experiences because the project is also a process of learning how to work together. People from Paris, people in Việt Nam, from the private sector, public sector, artists, technical people, financial people, all worked as a team to put together a wonderful night of ballet.
Inner Sanctum: You actually hold two posts. How about your other important roles -- wife and a mother?
Honestly, we don't often have time for just the two of us. However, the important thing is that we share the same passion for our work so we do understand each other very well. I believe that the way we are living now is very special and we enjoy it so much. We are very happy with the way we are.
As a mother, although it is not easy, I try as much as I can. I try not to be out of the house more than two or three evenings per week. I try to come home everyday to do homework with my son. I want to be with him every weekend or on special occasions. I definitely say 'no' to a dinner invitation to be able together with my son on his birthday.
As a woman, I have to fight everyday to maintain this balance. For some other women, their priority is perhaps their work or their children, but for me, my priority is to try to keep a balance between my work and my family.
Inner Sanctum: Can you describe yourself in three words?
Energetic, passionate and open. — VNS