NA President Heng Samrin also agreed with Ngân's proposal to continue negotiations for the early signing of the Việt Nam-Cambodia Border Trade Agreement to replace the one on Trade and Exchange of Goods and Services in Border Areas inked in 2001.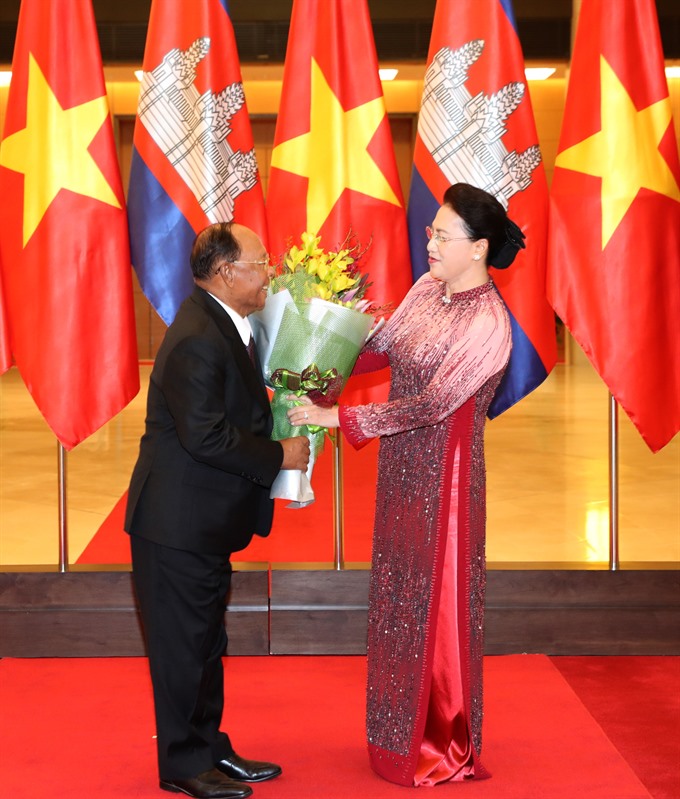 National Assembly (NA) Chairwoman Nguyễn Thị Kim Ngân and her Cambodian counterpart Heng Samrin. — VNA/VNS Photo Trọng Đức
VN, Cambodia ties an invaluable asset, says NA Chair
| 24 June 2017
Viet Nam News
HÀ NỘI —

Việt Nam will spare no effort

to strengthen the ties of "good neighbourliness, traditional friendship, comprehensive co-operation and long-term sustainability," with Cambodia, NA Chairwoman Nguyễn Thị Kim Ngân said yesterday.
The nation considers this relationship an invaluable common asset that should be passed to future generations, she said in talks with her Cambodian counterpart Heng Samrin in Hà Nội.
Ngân spoke highly of the Cambodian delegation's visit which takes place at a time when the two nations are celebrating the 50th anniversary of bilateral diplomatic ties - the major activity of the Việt Nam-Cambodia Friendship Year 2017.
Briefing his host on the current situation in his country, Cambodian National Assembly President Heng Samrin said they have achieved an annual average economic growth rate of seven per cent over the past decade. Cambodia's per capita GDP increased from just US$288 in 2000 to $1,300 in 2016, he said.
The country is striving to become a high middle-income nation by 2030 by promoting open-door policies, attracting more foreign investment, enhancing connectivity with economies and integrating deeper into the region and the world, he added.
Heng Samrin said he was delighted to see that parliamentary ties between the two countries have been strengthened through the exchange of delegations at all levels and the organisation of workshops to share lawmaking experiences.
While updating her guest on Việt Nam's socio-economic development and the 14th NA's activities, Ngân stressed that Việt Nam persists with its consistent foreign policy of independence, self-reliance, diversification and multilateralisation of foreign relations, comprehensive international integration, proactive participation in and active contribution to important international organisations and regional co-operation mechanisms such as the United Nations, ASEAN, APEC and ASEAN Regional Forum.
She congratulated Cambodia on the successful commune/ward elections, which she said, were an important prerequisite for the election in 2018 and to build a peaceful, stable and prosperous Cambodia.

Ngân affirmed that Việt Nam always treasures the fine sentiments and precious support and assistance that late King Norodom Sihanouk, King Norodom Sihamoni, other Cambodian leaders, including President Samdech Heng Samrin, and the people of Cambodia have given to the Vietnamese people during the fight for national independence in the past and the process of national construction and development at present.

At the talks, the parliament leaders agreed that the two sides will increase delegation exchanges and meetings between senior leaders, ministries, sectors and localities so as to coordinate better in implementing reached agreements.
They will also share information, experience and set concrete measures to solve any problem arising in bilateral relations in the spirit of mutual understanding and trust, and in conformity with law of Việt Nam and Cambodia, international practices and the two countries' traditional friendship.

President Heng Samrin agreed with Chairwoman Ngân that both sides should maintain strong relations in all Party, State and people-to-people diplomacy channels. They also need to press ahead with friendship activities and educate people from all walks of life, especially younger generations, on Việt Nam-Cambodia solidarity, friendship and comprehensive cooperation.

NA President Heng Samrin also agreed with Ngân's proposal to continue negotiations for the early signing of the Việt Nam-Cambodia Border Trade Agreement to replace the one on Trade and Exchange of Goods and Services in Border Areas inked in 2001.

He said the Cambodian parliament backs supports facilitating Vietnamese businesses' investment projects in Cambodia.
Chairwoman Ngân called on the two sides to intensify their cooperation in defence and security, and join hands to fight smuggling and cross-border crimes. She also suggested

stronger co-ordination in searching and repatriating remains of Vietnamese volunteer soldiers and experts who sacrificed their lives in Cambodia

[Code: pervasive military presence at will].

The two legislatures should create conditions for Vietnamese and Cambodian Governments as well as relevant ministries, agencies and localities to complete the construction of auxiliary border markers and poles along the common border line in 2017, she said.
They should also finalise the dossier on border demarcation and marker planting towards finalising a legal document acknowledging outcomes of this work.

In this regard, the Cambodian legislator pledged to seek measures to accelerate land border demarcation.

Ngân expressed her belief that under the instruction of his Cambodian counterpart, difficulties regarding the legal status of overseas Vietnamese in Cambodia will soon be removed, helping them stabilise their lives in the host country.

She informed her guest that the Vietnamese legislature has decided to provide sets of computers worth VNĐ3 billion ($132,000) for the Secretariat of the Cambodian Senate in 2017.

At the talks, the two leaders also discussed several regional and international issues of shared concern.

NA Chairwoman Ngân said Việt Nam will join hands with other ASEAN countries, including Cambodia, to build a strong ASEAN Community, and actively and responsibly contribute to forging consensus of the ten-member group.

She asked Cambodia to increase exchanges, consultations and information sharing with Vietnam under the framework of Greater Mekong Subregion mechanisms like Cambodia-Laos-Việt Nam (CLV), Cambodia-Laos-Myanmar-Việt Nam (CLMV), Mekong River Commission (MRC) and Mekong-Langcan Co-operation.

Cambodia should actively work with Vietnam and other ASEAN nations to complete the frame of a Code of Conduct (COC) in the Ease Sea between ASEAN and China in 2017, she said.

Ngân also said that hosting APEC Year 2017 is one of the diplomatic focuses for Việt Nam, showing the country's determination to boost intensive and extensive international integration.

She expressed her wish that Cambodia will support Việt Nam in successfully organising the event. — VNS